Regular price
90.000 KWD
Sale price
67.500 KWD
Unit price
per
Discount
Sold out
Additional data
Battery voltage
12 V
Bosch Radar Technology
yes 
Max. detection depth
120 mm
Detectable objects
magnetic metals (e.g. iron), non-magnetic metals (e.g. copper), live cables, non-live cables, water-filled plastic pipes, wooden substructures 
Detection depth, magnetic metal, max.
120 mm
Detection depth, non-magnetic metal, max.
120 mm
Detection depth, live cables, max.
60 mm
Detection depth, wooden substructures, max.
38 mm
Accuracy
± 10 mm* (*plus use-dependent deviation) 
Views
Spot view 
Wall types
Concrete, Drywall, Universal 
Material identification
Live cable 
Power supply
12 V Li-ion or 4 x 1.5 V LR6 (AA) 
Automatic deactivation, approx.
5 minutes 
Weight, approx.
0.5 kg
Additional function
Dual Power (10.8 V/4 x 1.5 V LR6 AA); Centre finder with object direction indicator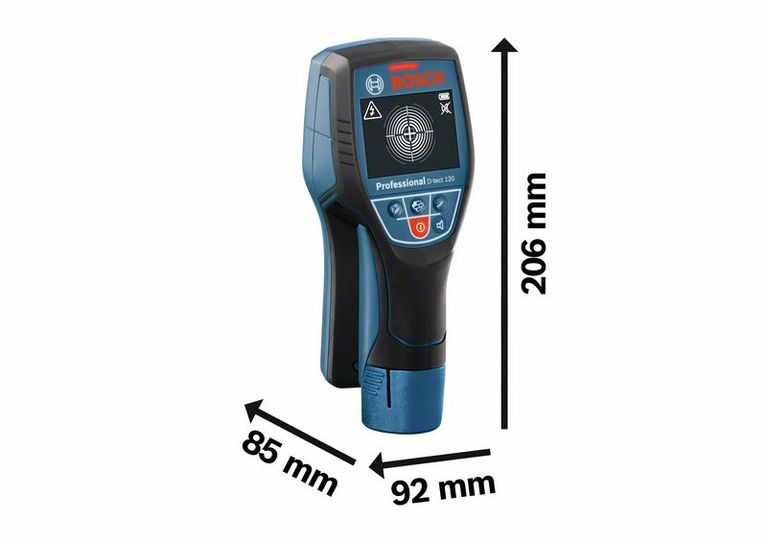 Advantages
Intuitive radar scanner for almost all materials
Spot measurement provides accurate detection on narrow surfaces
Centre finder offers visual guidance, to clearly identify the precise location of the object's centre
Dual Power Source allows for use with a 12 V Li-ion battery or with standard alkaline batteries
The detector D-tect 120 Professional is an intuitive radar scanner developed for almost all materials. Spot measurement provides accurate detection on narrow surfaces, while the centre finder shows the precise location of an object's centre. Additionally, Dual Power Source technology allows for use with both a 12 V Li-ion battery or standard alkaline batteries.
It is suitable for a range of craftsmanship disciplines to locate pipes filled with water and cables as well as to avoid drilling mishaps when performing carpentry, plumbing, electrical, and HVAC applications.
The D-tect 120 Professional offers a simple user interface with three self-explanatory selection buttons for adjusting to various applications and it is able to detect objects at depths of up to 12 cm. Audio and visual signals notify the user when objects are detected in the wall.
Functions









What's Included in this Package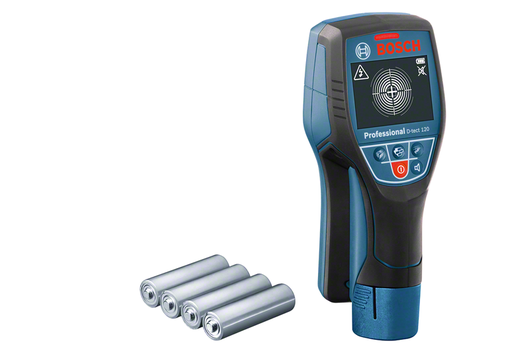 with 4 x battery (AA), adapter
Order number: 
0 601 081 300
AA1 alkaline battery adapter

1 608 M00 C1B

Quick-start card
4 x 1.5 V LR6 battery (AA)
Share
View full details